So long as the weather improves a little (that means stops raining), I'll be racing on the track tomorrow! It almost never rains in San Diego this time of year, but we've been having drizzles all day today. Our velodrome has a surface that is best described as stucco painted with enamel paint; which means it is slicker than greaed owl poop when it gets wet.
For you non-Southerners, owl poop is awfully slick when greased.
Our neighbors to the East in Arizona do not have a velodrome, so they hold their State Track Championships on our track and allow California riders to compete with them- we just don't get to have the medals or state titles. Today was supposed to be the sprint events, but I don't know if they had any races today with the intermittent rains. Tomorrow is supposed to be the time trials. It was my plan to just ride the Kilo and 4K Pursuit, but I may get the chance to do Sprint and Keirin tomorrow instead, thanks to the rain. Kickass!

I have yet to race on the track once this year and my last race was a criterium in April. Life and work have rightfully commanded the bulk of my attention, so the racing has been put off to the side. It hasn't been for lack of desire to race, but a lack of time and too many guilty feelings for trying. Needless to say, I'm a tad excited- hence this post at nearly 10:30PM.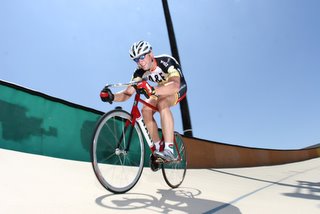 Anyway, tomorrow will be fun. I'll get to ride my new track frame finally and get to race- whatever events I get to do. Should be fun, regardless. Yippee!

Tim